An insider's perspective on removing iconic theme park attractions.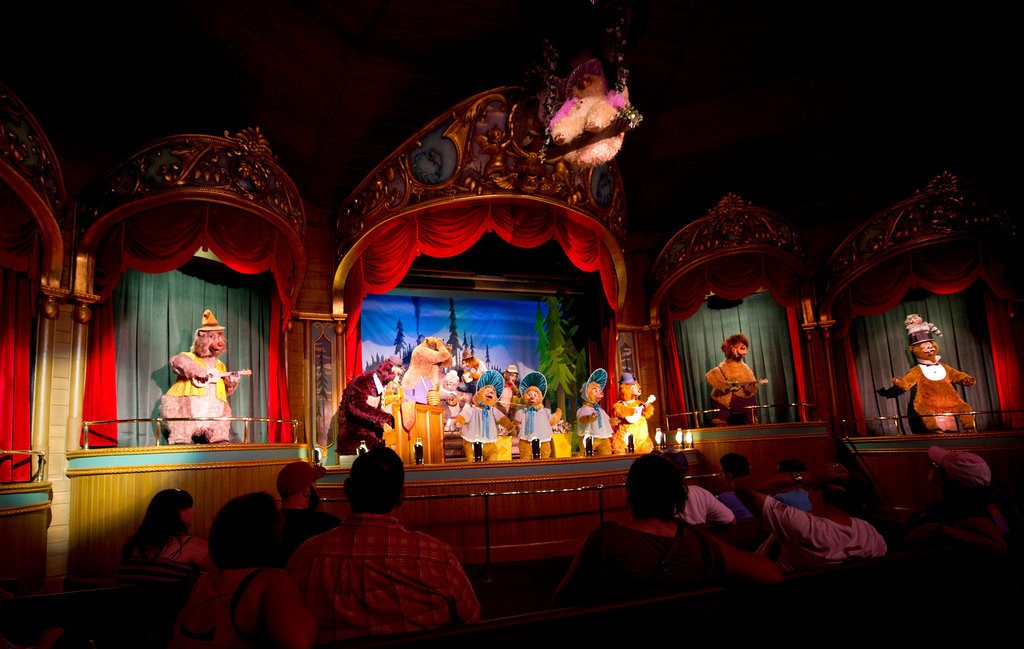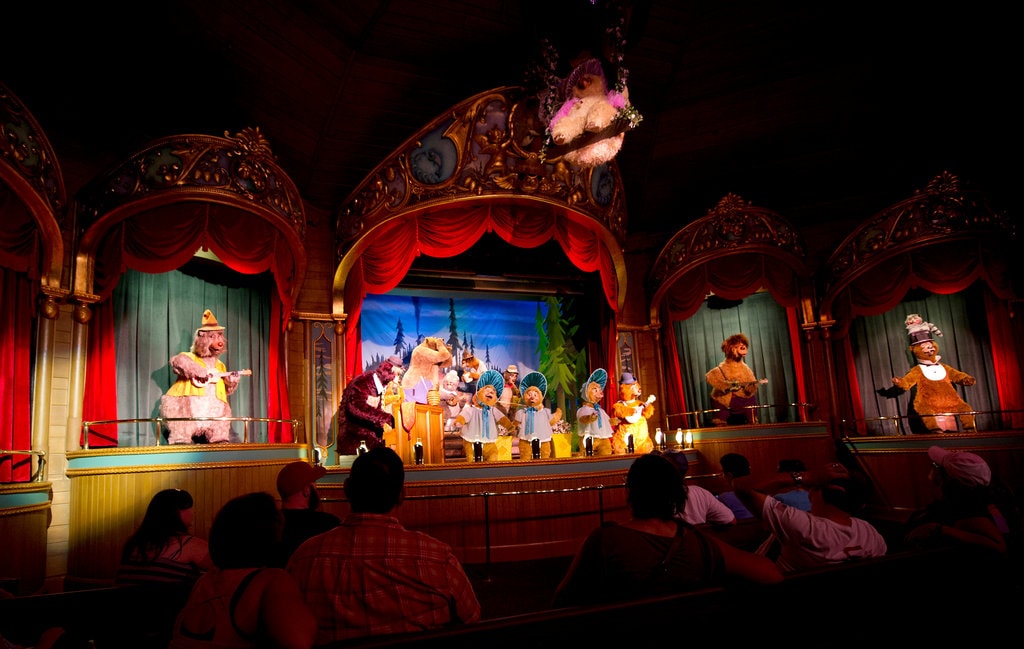 The recent rumor of the Magic Kingdom's Country Bear Jamboree Show's impending closing got me thinking about the closing or demolition – sorry reimagining – of iconic, day-one theme park attractions and shows. While I have no real preference or confirmation on whether or not the Country Bear Jamboree, located in Frontierland, should or should not be removed and be reimagined into something new using more contemporary Intellectual Property (IP); I do have insider input and personal professional design experience on what is involved with the closing and the reimagining of day-one and other existing theme park attractions, shows, and restaurants. 
What are 'day-one' theme park attractions and shows?
'Day-one' theme park attractions and shows are Guest experiences and assets that were designed, built, and opened during the original build year of a theme park. These are Guest experiences, attractions, shows, restaurants, etc. that are on the original list (or 'menu' as we say in the industry) of assets built at the same time as a new theme park in which they reside. Day-one attractions and shows either opened the same day or same year the theme park opened for business.
Over the past decade, there have been many iconic day-one theme park attractions and shows that have been closed, their original space and facility either demolished or gutted, and reimagined to house a new Guest experience. Two examples that stick out in my mind in particular, for those of us that have a history with Walt Disney World, are the Mr. Toad's Wild Ride and 20,000 Leagues Under the Sea (20K for short) attractions; both formerly located in the Magic Kingdom's Fantasyland.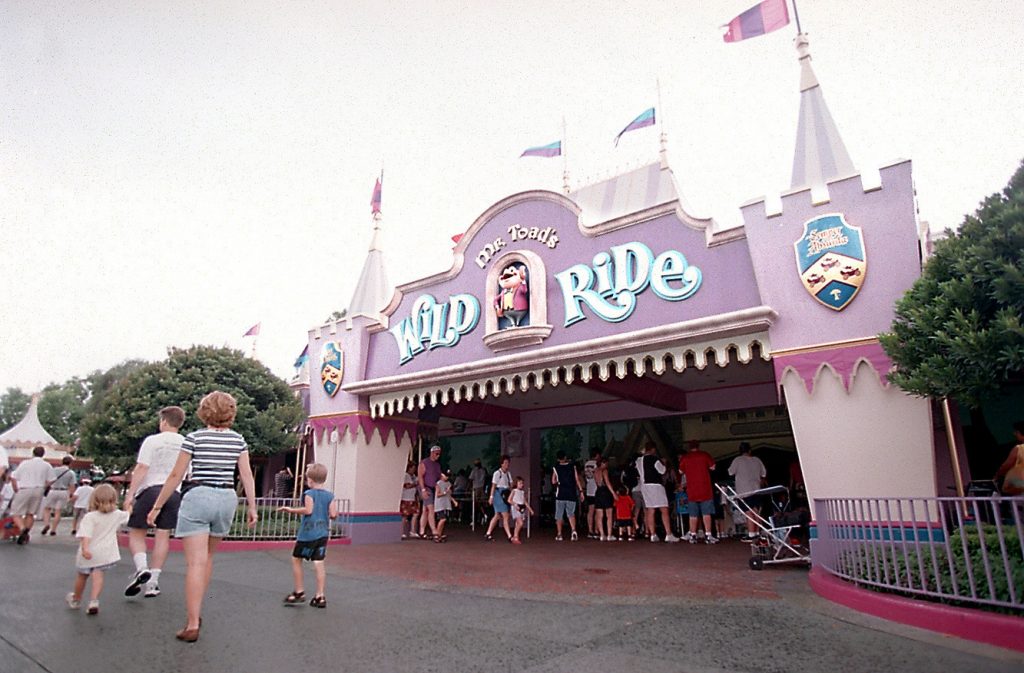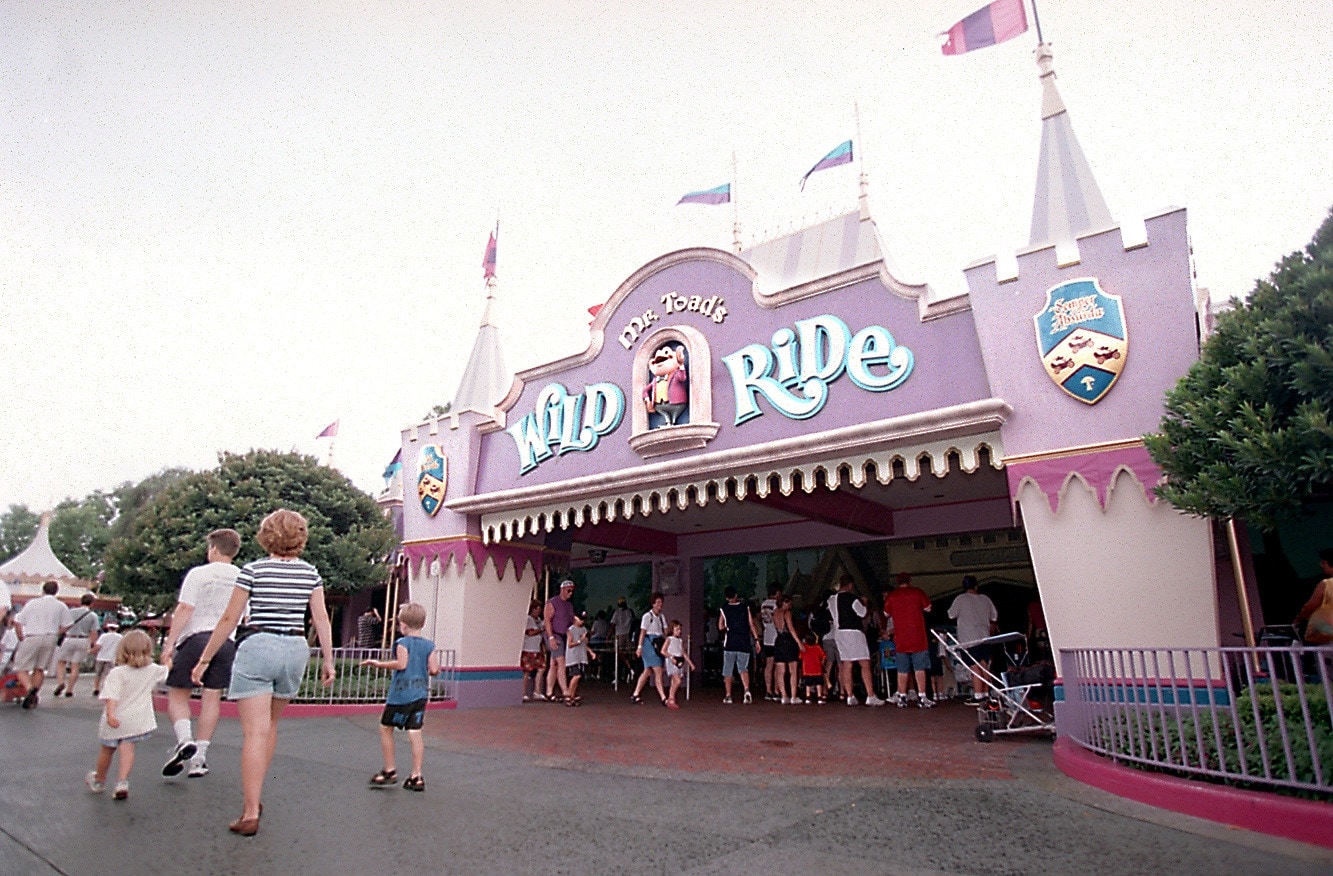 I distinctly remember when the impending closing of Mr. Toad's and 20K were confirmed and the public backlash and outcry that immediately followed. The comments ranged between pure misery to outright joy. Each of these attractions were day-one to the original build of the Magic Kingdom, both opening in 1971, with Mr. Toad's closing in September 1998 and 20K closing in September 1994. Mr. Toad's Wild Ride was replaced with The Many Adventures of Winnie the Pooh while 20K was replaced with, well eventually, the MK Fantasyland Expansion: Be Our Guest Restaurant, Voyage of the Little Mermaid attraction and the Seven Dwarfs Mine Train roller coaster.
The big question that always is asked when a day-one attraction or show is announced to be closing is: "Why?". Why do theme park operators close iconic Guest experiences that are seemingly beloved by Guests? Rather than focus on rumors about impending attractions closing, I would rather focus on the 'why' and 'how' attractions and shows are removed from an insider's perspective and my personal professional experience (as a Disney Imagineer) being on multiple project teams that removed many iconic day-one and other beloved assets at Walt Disney World.
The answers to the 'why' and 'how' questions, like many things, are not simple especially when the attractions or shows are located in the Magic Kingdom (the most popular and most visited theme park in the world). 
'Why' Attractions are Removed
Successful theme parks who record increased annual Guest attendance, have a greater responsibility each year to move Guests more efficiently through their park's attractions, shows, restaurants, etc. In general, a successful theme park's opening year recorded, annual attendance is going to be less than the same theme park's annual attendance ten, twenty, or thirty plus years after it opened. It may take several years for a theme park to reach its designed maximum annual attendance capacity after its original opening date. 
Every theme park is designed for a specific yearly, average (max) attendance. The yearly max attendance is a number, in the millions for larger theme parks, that a specific theme park can optimally handle and operate within during a calendar year. This is the maximum number of Guests the theme park's promenades, number of restrooms, quantity of restaurants, maximum number of attractions and shows combined hourly counts, etc. were designed, planned, and built to meet the theme park's yearly operational budget, meet all the Code requirements for occupancy levels, and to meet the theme park's yearly financial proforma.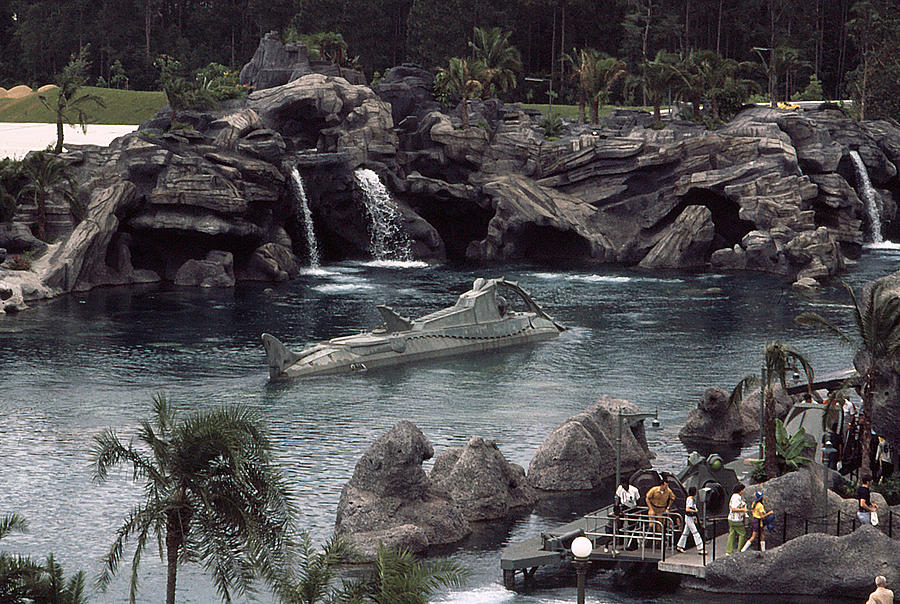 Every theme park attraction, show, restaurant, restroom, promenade, etc. is designed to handle a very specific number of Guests either per hour (for attractions, shows, and restaurants) or per day/year for determining promenade widths. For theme parks, like the Magic Kingdom, that see record attendance nearly every year, the demand and requirement to move Guests efficiently through the park's assets becomes more difficult. To accommodate increased Guest attendance in a theme park without spending tens to hundreds of millions of dollars for new attractions and restaurant expansions each year, is a constant challenge for theme park operators. Operators are required to deal with increased attendance demands within the confines of what they have; utilizing existing assets such as attractions, shows, and restaurants.
Again, let me be clear, I'm not taking any particular side on the closing of iconic day-one Guest experiences. I'm merely giving a different perspective from the design and operation side of the discussion that is rarely provided on rumor boards and website chat forums.
As stated earlier, every asset within a theme park has a (designed) maximum number of Guests it can handle per hour. For attractions and shows, there are a limited number of people you can physically and feasibly push through a ride or theater for a show. Theme park restaurants are similar in that the kitchen and seating capacity are designed for a specific number of Guests and meals per hour. Theme park exterior promenades and restrooms are designed and can only handle a specific number of Guests before they become unsafe and violate the variuos building codes to which they were designed. Heir in lies the problem with theme park operators; they can – metaphorically speaking – only fit so many pounds of potatoes in a bag before it bursts.
If a theme park operator needs to accommodate increased annual attendance growth and they cannot build new expansions each year, what can they do?
Operators will evaluate the annual recorded hourly counts for the attractions, shows, and restaurants. If there are, for example, day-one attractions that annually do not meet their designed maximum hourly counts each year (they are unpopular) or there day-one attractions that have a low hourly count to begin with and are expensive to operate and maintain (like the 20K attraction at the Magic Kingdom); then these assets are considered for a refresh and potential removal. 
Going back to my original examples. Mr. Toad's Wild Ride though popular (hey I rode it many times) had a low designed hourly count. Its hourly count day-one and in the early years of the Magic Kingdom were most likely not an issue. Fast forward two decades when the annual attendance of the Magic Kingdom had easily doubled if not tripled, an attraction such as Mr. Toad's with a low hourly count that also repeatedly got bad Guest comments because it scared small children, was a prime candidate for closure. In the case of 20K, it had a designed low hourly Guest through-put, it had a slow and inefficient load/unload time, and it was expensive to operate and maintain each year (not to mention its footprint took up some of the most valuable real-estate in Central Florida for only one attraction).
Regarding the Magic Kingdom's Country Bear Jamboree, I would argue it falls into the same category as Mr. Toad's; it has an inherent low hourly Guest count; it only sees maximum monthly Guest capacity during the peak seasons (Christmas, New Years, Easter, and July-August); and though beloved is not something Guests with limited vacation time to spread across four theme parks are going to put high on their 'must-do' lists.
'How' Attractions are Removed
I have a confession to make. During my time as a Disney Imagineer, I was on various project teams that demolished – sorry reimagined – the following assets: 20,000 Leagues Under the Sea; Snow White attraction; Mickey's Toontown Fair (which included Mickey's and Minnie's house); a portion of the Tomorrowland Speedway track (Tron's taking out another part now); Lights, Motor, Action!; all assets of the Backstage Tour at Disney's Hollywood Studios (DHS) which included Catastrophe Canyon; all remaining working soundstages at DHS; the Earful Tower at DHS; portions of New York Street at DHS; and a list of other attractions, shows, and assets that were slated to be removed but were not (or yet).
Removing entire attractions, whether it involves the complete demolition down to bare ground or the gutting of an existing facility that removes all interior components but keeps the facility's shell and core is a monumental task. It's less difficult to completely remove or demolish an entire facility or asset rather than keep an existing building's shell and turn it into something new. Each option, however, has their own unique challenges and require a great deal of design and implementation effort.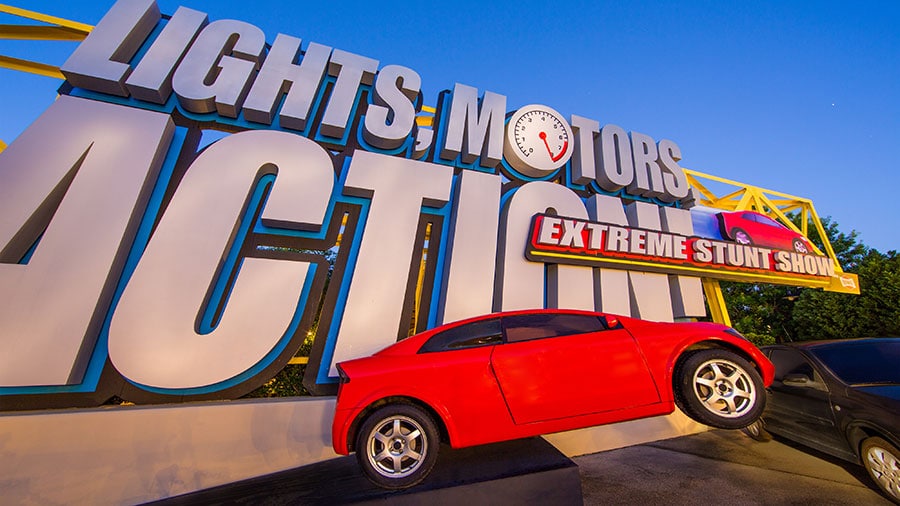 Either option, full or partial removal requires an early exploratory assessment. From and architectural and engineering standpoint, we need to:
Know structurally what is going on behind the walls and under the ground since as-built design drawings may differ from what was actually built.
Electrically, we need to know if primary or major secondary electrical feeds go through or near the asset; electrical feeds that may affect a neighboring building (or attraction) if we remove or alter the electrical power distribution.
Mechanically, we need to know the existing condition of the system if mechanical equipment (a/c and heating) can be reused or if the existing equipment is at the end of its design life.
From a plumbing and fire protection/sprinkler system standpoint we need to know if the fire alarm panel that runs the fire protection systems is up to Code, can be reused for the new 'thing' that will be built or if being completely removed does it (unknowingly) tie into or support an adjacent building or asset that will remain intact.
Also included in the plumbing scope we need to know if the subsurface storm water and sanitary utilities (sizing) will be affected if we completely remove an asset and put back something new, and larger.
From a show aspect, a complete salvage list and catalogue of the existing (Guest facing) props, ride vehicles, etc. is compiled to determine if they can be reused elsewhere in other attractions, or put into an attic stock for future replacement or use in another asset.
From a technology standpoint, low voltage systems and show action or ride action equipment standpoint, can items such as hydraulic motors, animation, etc. be salvaged for later use or is it antiquated and needs to be demolished completely.
The list of pre-demolition activities goes on….
The planning for either a full or partial removal of an existing attraction takes longer than the actual physical act of removal. In the case of the expansion efforts at Disney's Hollywood Studios, myself and many others planned, strategized, coordinated and worked on design drawings to remove existing assets from that park for more than two years before the first shovel went into the ground and before the first sledge hammer hit an existing wall. The number of man hours and capital expenditure it takes to partially remove or completely remove an existing attraction, show, or restaurant is a monumental effort that is not done without careful consideration and planning.
The point I'm driving home for the 'Why' and 'How' day-one or iconic attractions are removed is a carefully calculated decision by theme park operators. Making drastic changes to their theme parks is a decision that is not taken lightly and includes the consideration of the emotional impact (change) it will bring to their Guests. It is a calculated effort that spans over several years of intense evaluation, highly detailed planning, extensive coordination, and involves serious capital expenditure. 
If you would like to learn more about the process of designing theme parks or how to become a Theme Park Architect, check out our website!