With extended furloughs, mass layoffs, and for some a career ending global economic downturn, all caused by the twenty-first century's iteration of a pandemic, the theme park design business has taken a roundhouse kick in the teeth. The historic toll the global pandemic has exacted on highly skilled theme park design professionals will forever reshape the theme park industry. The long-term effects on theme park design practitioners and the theme park design business sadly are not fully realized since this 'story' is still unfolding.

Theme parks, as we've stated time and time again in this forum, are all about story. Story is king in theme parks and one of the most important attributes that separates theme parks from amusement parks. To bring fresh, immersive, and fantastical stories to fruition takes highly skilled theme park designers, each with their own skillsets and design processes unique to the theme park design business. Sadly, decades if not centuries of collective theme park design experience has been shown the door over the past few months.
Another Week – Another Wave of Bad News
At the time of the writing of this post, I've lost count of the number of friends and colleagues within the theme park design business that have permanently lost their lucrative and highly sought after themed entertainment design jobs. While many have managed to eek by and maintain their positions through the furlough cycle, many of them are still concerned what will happen to their positions at the end of the year. For the last two months, it seems every week I receive word that another friend or colleague of mine in the theme park design business 'got the call' – meaning they were permanently laid off – most after months of being furloughed with no income. While some are in the early years of their career and have time to bounce back, the story is different for several of my more tenured colleagues as this round of layoffs was career ending.
Yes, many theme parks are open to Guests but with limited capacity. Disneyland, in California, as well as Universal Studios Hollywood have yet to be given permission to open their gates with even a limited Guest capacity strategy. The theme parks that are operating with limited Guest attendance capacities are still trying to recover financially from months of closure. Couple this with the fact that consumer confidence, consumer spending, a global economic situation that is still working at recession level metrics, and the ongoing fear of the second wave of the pandemic hitting many countries; is all a perfect storm that effects the future of the theme park and theme park design businesses.
In the Middle of the Storm
While I'm typically an optimistic person, I believe we are not even seeing a hint of light at the end of the tunnel. The theme park and themed entertainment business has a long road to recovery with respect to their financial balance sheets. Recently, Disney announced they were 'doubling down' on their streaming media business which resulted in yet another corporate reorganization. To me, this is a sign the Mouse House has no intentions of short-term investments into new capital projects within their theme parks.
While theme parks will need to continue to allot funds within their annual theme park operating budgets for preventative maintenance (though I'm sure those budgets have been gutted), the short-term prospect of new theme park projects are not even on their radar. Down the street, in Orlando, Universal has put the breaks on their new Epic theme park. Yet another strong indication the outlook for new, domestic theme park project expenditures has been ceased indefinitely.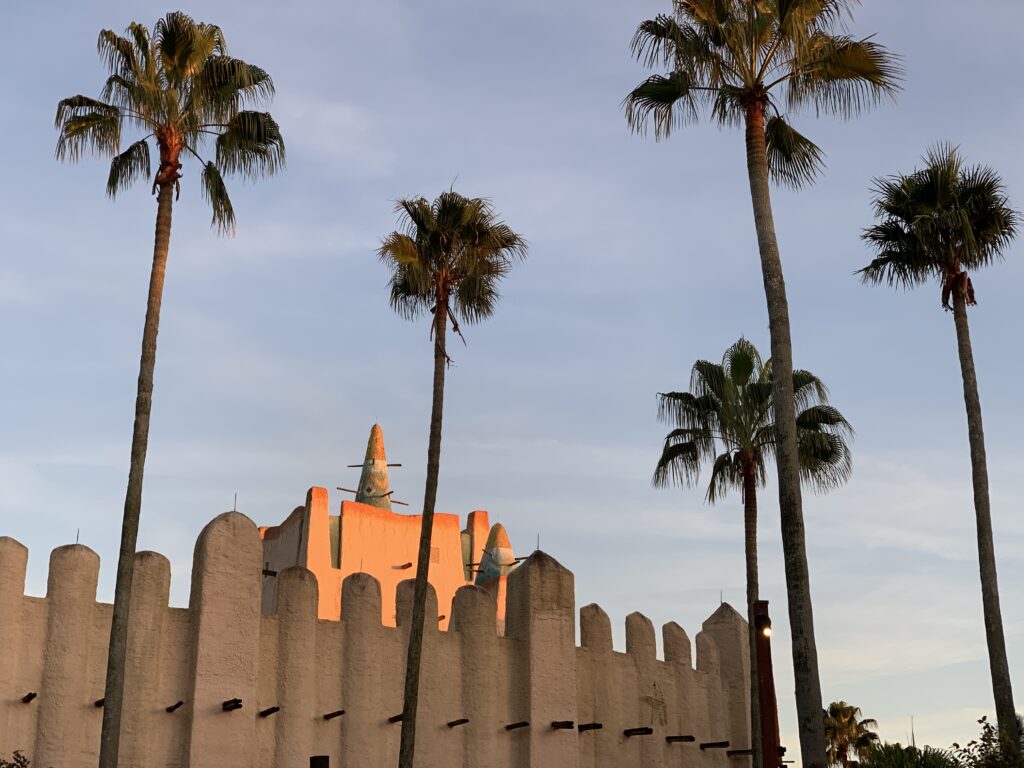 The Future of the Theme Park Design Business
As I've stated in previous posts, the theme park and theme park design business is cyclical. This isn't the first case study in the history of massive theme park design business layoffs. If you read the history books and watch the documentaries about the modern theme park design business there are several previous examples of similar mass terminations due to contemporary, economic downturns or in some instances pure mismanagement of a company's theme park business unit. What I believe makes the current downturn in the theme park design business more unique and inflicting is the scale and depth of the cuts of staff.
Unfortunately, none of us have the vision of Madame Leota to clearly foresee what the future holds for theme park designers. We can use historical markers to theorize timelines and strategies, but those are only as good as the white boards on which they are written. We can say this with certainty, the return to the 'new normal' in the theme park design business will be slow and solely dependent on Wall Street's willingness to once again lend billions of dollars to theme park owners to staff up and create their new attractions. This, however, hinges on the countries of the world being able to resolve the health crisis caused by the pandemic.
My opinion is we will see a long, slow recovery in the theme park and theme park design business. I believe it will be years before we see the staffing levels that were prevalent even five years ago. Along the way there will be a handful of smaller themed entertainment projects that will be brought to fruition, my guess these will be in Asia and the Middle East first with an eventual return in Europe and North America, but nothing large and iconic like we've experienced the past five to ten years. I also foresee the plethora of skilled theme park designers, who have been recently been terminated, either returning back to private practice working on (non-themed) Commercial projects or taking positions in new, smaller private theme park/themed entertainment design companies that will be created – many who's staff will comprise of ex-Disney, ex-Universal, etc. talent.
As for the future of Walt Disney Imagineering, Universal Creative, etc. companies; expect nervous, shell-shocked skeleton crews for the foreseeable future working on, as we call them, "SLJ's" (shitty little jobs). I'm confident the sun will rise again on the theme park and theme park design business. For those of us in this business all we can do is help one another in the interim.
? Click Here for a list of job search websites.